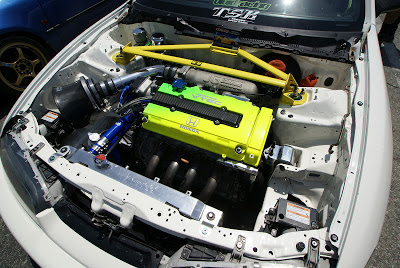 This event is the 5th eibach event i have been too. this event might also be the last eibach event i go to. this year they moved the eibach event from the actual eibach headquaters to the Irwindale Speedway parking lot, to better accommodate large volumes of people. Boy did that fail, the exit off the 605 was ridiculous, there was a line of cars trying to get off that wasn't even moving. so we decided to exit the opposite way of the event and park about a mile down the road, then walk to the event. this was definitely the way to go, we were walking faster then the cars were driving, the traffic was just bananas! By the time 1:30 came around the event was filled to capacity and there were police telling people to turn around and go home the event was closed they weren't letting anyone else in. this never happened at the old eibach meets. Anyway, Once in the event i quickly realized that there was quantity over quality. seriously there was just garbage ass cars EVERYWHERE, no quality at all. Dented cars, rusty body panels, fake brembo brake caliper covers, fake wheels everywhere with stickers to make the wheels look real, it was quite a disappointment. it made me feel bad for people with nice cars that made the journey to come be apart of the show. when i see the amount of garbage in the scene it is really disappointing. I cant believe that people just buy cheep Chinese knock off parts and don't car one bit about quality or actual functionality of the part. they just want people to see there flashy bling bling. it seems like it all about tow hooks and tie bars, not tuning and tires. what i mean is it seems like people just rush off to there local shop that sells garbage Chinese parts and pick up a tow hook and a tie bar so there car looks cool. but they are still rocking cheap bald ass tires on stock wheels. when in fact there car would handle/perform better if they actually got nice light wheels and grippy tires. sorry, enough of my ranting. i did manage to get 115 pictures so i guess there was some good cars lol. in conclusion i hope that next year it goes back to eibach, it was a better venue and more fun.
For those of you out there doing it right. keep on doing what your doing.
well on to what you came here to see PICTURES!!!